The Ukrainian Society of Ivan Franko offers Post-Secondary and Cultural scholarships to our young, aspiring graduates.  Scholarship applications are available in March of each year with selections taking place in June.
This year, the Ukrainian Community Society of Ivan Franko is proud to support four scholarship winners.  They are as follows: Mackenzie Hughes, Miraslava Kuroyedov, Grace Lutz and Olena Poburko.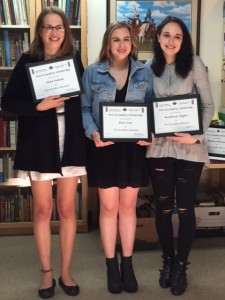 We look forward to another successful year!
Submitted by Tanya Zukewich
Scholarship Committee