Our 2021 Scholarship program is temporarily suspended for this school year. Our apology to any prospective applicants. We hope we can once again offer our scholarship program in 2022.  
---
2020 Scholarship Winners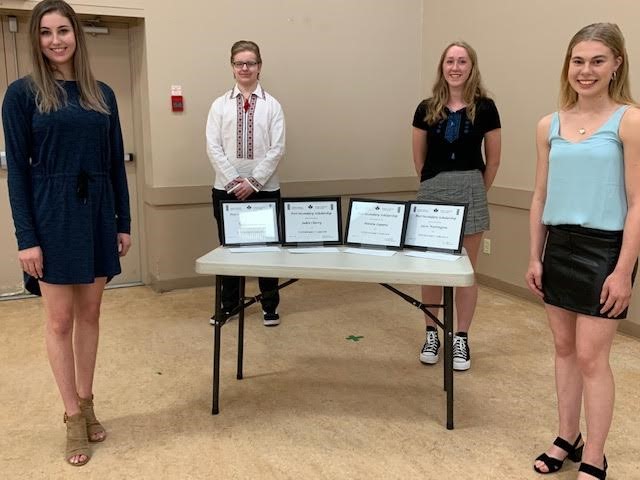 For 2020, the Ukrainian Community Society of Ivan Franko is proud to support four scholarship winners. They are as follows (from left to right in photo above): Natalia Lupynis, Sasha Jatskevich, Lucie Warrington and Jaden Cherry. All the best to our four recipients as they begin their post secondary studies.
---
2020 Scholarships
For many years, the Ukrainian Society of Ivan Franko has offered scholarships to our young, aspiring graduates. Scholarship applications are available in March of each year with selections taking place in June. Application forms are mailed to all Senior Secondary Schools in Richmond and posted on our website.
The Ukrainian Community Society of Ivan Franko is pleased to offer two types of scholarships for 2020. These scholarships are directed towards students between the ages of 13 and 18.
TYPE I. Post Secondary Scholarship. For post secondary study at an approved college or university in the amount of $1,000.00. TYPE II. Cultural Scholarship. For the study of Ukrainian culture and/or language in an approved program to the maximum of $500.00.
We invite you to review the application package and give it to a family member that you feel could be a worthy candidate. A letter of reference is required from a school representative which could be a teacher, counselor or administrator. The application form for Type I or Type II must also be completed by the candidate.
The deadline for 2020 Scholarships was Friday, May 15, 2020 for both types of scholarships. Please check back next March to apply for the 2021 scholarships.
Questions or concerns can be addressed to Tanya Zukewich at (604) 241-2300.