Youth Scholarships
For many years, the Ukrainian Society of Ivan Franko has offered scholarships to our young, aspiring graduates.  Scholarship applications are available in March of each year with selections taking place in June.  Application forms are mailed to all Senior Secondary Schools in Richmond and posted on our website.
We offer a Post-Secondary and Cultural scholarships.  We require each applicant to complete the scholarship application, attach a transcript of grades, two letters of reference (one from the school, the other from a person within the Ukrainian community) and an essay to describe why one deserves the scholarship.
2017 Scholarship Application
View and download the 2017 Scholarship Application (click on text.) Deadline for submission is May 19, 2017.
---
2016 Scholarship Winners
This year, the Ukrainian Community Society of Ivan Franko, is proud to support four scholarship winners.  They are as follows: Mackenzie Hughes, Miraslava Kuroyedov, Grace Lutz and Olena Poburko.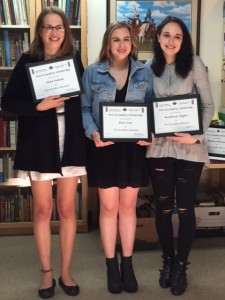 We look forward to another successful year.
Submitted by Tanya Zukewich
Scholarship Committee