Saturday Food Sales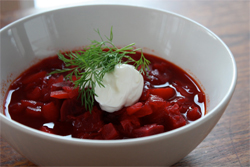 Traditional Ukrainian food is available for purchase every Saturday from 10am – 2pm at The Ukrainian Centre.
Pyrohy, holubtsi and kobassa are available and seasonal favourites such as paska, babka, kutya and beet horseradish relish can also be purchased.
Saturday Sales take place
from 

10:00 am – 2:00 pm.
Saturday Sales will continue every Saturday throughout December 2018 but we will close for the holidays on Saturday, December 29th and Saturday, January 5th.
Remember to stock up for Christmas! We will have pirogies, cabbage rolls, borscht and Kobasa.  We will have horseradish and beet relish for sale on December 15th and December 22nd.  
Saturday Food Sales Items and Prices
Perogy:

 Potato and Cheddar $5.00 per dozen

Cabbage Rolls:

Rice and Bacon $8.75 per dozen
Ground Beef and Rice $16.00 per dozen, $8.00 per half dozen

Borscht:  $4.00 for 500 ml
"New" Ukrainian Sausage:  $9.00 per ring