Golf Tournament
For over 25 years our Society has been hosting an Annual Ukrainian Community Golf Tournament for members and friends.  The tournament is for all golfers, young and somewhat old, regardless of ability.  The emphasis is on everyone having a good time.
The tournament is a Texas Scramble format, enabling all players of varying skills to play and enjoy the game.
Refreshments and a snack will be served after the ninth hole.  There will be a dinner at our Centre afterwards, where prizes will be distributed.  We have been fortunate to receive prizes from sponsors and players (gift certificates, gift baskets, golf-related items and two high-end golf bags last year) so that all players receive a prize at our golf event.  We are very appreciative of our donors who continue to make our tournament most enjoyable for all levels of golfers.
---
Golf Tournament 2019
Where: Country Meadows Executive Golf Course in Richmond (an executive course, par 58, 4 par 4's, 3157 yards)
When:  Sunday, Sept. 15, 2019; First tee off is 11:00 am
Cost: Members – $55; Nonmembers – $65
For more information on this great event, contact George Brandak at 604 274-2025 or at george.brandak@ubc.ca
---
Recap: Annual Ukrainian Golf Tournament on Sunday, September 16, 2018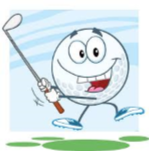 Golfing is a skill, but it also requires luck.  And that is what we had on a Sunday afternoon in September at the Country Meadows Golf Course when the heavy rains stopped, followed by a drizzle and no rain during our tournament between 1:03 and 3:45.
The conditions were not a problem for the foursome of Vera and Glenn Adams, Vicki Brkich and Neil Wickson who shot -7.  The foursomes of Lesia Dawydiak and George Daschko finished with -3.  The longest drives were delivered by Vicky Brkich and Greg Gregory and shots closest to the pin were by Lesia Dawydiak and Mr. Athanasios.  The four most honest golfers shot +6.
After the game, players game to the Centre for a banquet, distribution of prizes, and refreshments served by Tanya Zukewich who also registered the players prior to tee-off.
Thanks to the generosity of private donors, individual golfers, and our Society, all golfers were able to receive prizes after the meal.  The prizes included gift baskets, B.C. Lions tickets, a private golf lesson and many gift certificates from golf-related items to the Keg.  The donors included Richmond Driving Range, Savage Creek Driving Range, Country Meadows Golf Course,  Jennifer Wyatt, Amron Meats, C & D Logistics, Van City, Camfill Farr, and Envirotech. Sean Daschko and George Brandak were able to collect prizes from our generous donors.
We are grateful to our kitchen staff who spent much time and effort to prepare a wonderful meal.  The Country Meadows Golf Course hosted us in a courteous and efficient manner.
Kudos to all our golfers, many who have participated in the tournament for a long time and those who have participated in their first tournament.  We hope you will continue to support our tournament and our Society.